Originally Posted on November 1, 2014 by admin
The Republic of Kanata – Live Free or Die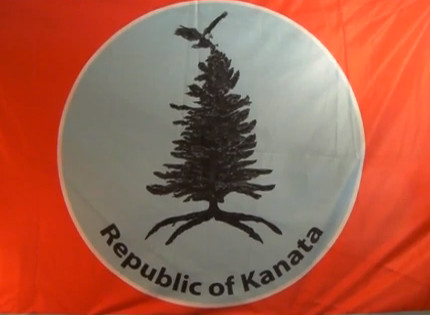 Special Pre-Convention Bulletin: November 1, 2014
In this Issue:
1. Secretary's Pre-Convention Report and Regional Updates
2. The Draft Proclamation of Independence and Constitution
3. Local Work: Campaigns, Issues and the Training of Local Leaders
…………………
Pre-Convention Report
by Colin Sullivan
Secretary to the Provisional Council for the Republic of Kanata, Winnipeg
Fellow patriots,
Hundreds of new volunteers have flocked to our ranks in the past several months, and inspired by our vision of a liberated and sovereign nation, are being organized and trained within the six Districts of the Republic of Kanata. And many of these men and women have already taken the Oath of Allegiance to the Republic, and are actively breaking free from the criminal "authority" of the crown.
We expect to see many of you as delegates and observers at our first Constitutional Convention in Winnipeg, between January 1-4, 2015. Not only will that event see a Proclamation of Independence declared and a Constitution for Kanata adopted, but the work of our regional groups will be shared and built upon, to unite more of our people under our banner.
The motto of our movement is "Live Free or Die", for as freeborn and sovereign men and women we know that there can be no life without liberty: and liberty demands that we reclaim our birthright freedoms by nullifying all that suppresses them. Our movement is all about reclaiming what is naturally ours, starting with our lives, our laws, and our land.
We have already begun such active reclamation, by establishing local common law courts, revoking the authority of so-called "crown" agents like the RCMP, and engaging in land seizures and citizen arrests against those who are a threat to our children and our communities. Our aim is to unite and broaden these actions in the years to come: not as random individuals but under the lawful political authority of our new nation: the Republic of Kanata.
In preparation for our Convention that will create that Republic, we have organized five Policy Commissions to advise those who are drafting the Constitution. These Commissions are:
1. The Law and Government, including common law courts
2. Environment, Agriculture and Land Reclamation
3. Indigenous Nations
4. The Economy and Social Welfare
5. Foreign Relations and National Security
The documents and policy papers of these Commissions will be presented at the Convention and revised and adopted as part of our Constitution. If you wish to assist or contribute to any of these discussions, please contact the appropriate Commission c/o republicofkanata@gmail.com .
Any member of our movement can attend the Convention. Every local branch of three or more members may elect one delegate, or two or more delegates for every multiple of ten members. Please elect your delegates no later than December 1, 2014, and send their names and contact information to our central office.
We recognize that Kanata's vast distances and the cost of travel may prevent many of you from attending the Convention. We are therefore linking all the regional groups by video feed and skype during the Convention; and our organizers will also be holding regional gatherings to coincide with the Convention in order to maximize everyone's involvement.
Also, please note that our work is now organized into six Districts, each under the supervision of a Regional Convenor:
District One: West Coast
District Two: The Prairies
District Three: Ontario
District Four: Quebec
District Five: East Coast
District Six: The North (Yukon-Nunavut)
Roughly half of our members are based in the west, in Districts One and Two, with most of the rest residing in District Three. The six Regional Convenors are all voting members of our Provisional Council, which serves as the interim national body prior to the election of our first Congress.
Please feel free to contact our national office (republicofkanata@gmail.com) to receive the name of the Regional Convenor in your District, although be assured that the Convenor will be in touch with you to notify you of upcoming local meetings and actions.
Finally, because educating the public about the vision and goals of our movement is so vital right now, general leaflets, videos and other educational material will be provided to you all soon, for public dissemination.
Build the Republic now! Take the Oath and reclaim the Nation!
…………….
The Draft Proclamation of Independence, Oath of Allegiance, and the Constitution of the Republic of Kanata
These crucial documents embody the vision and soul of our new nation, and so the documents have been discussed and amended many times by dozens of our members since their initial issuing six months ago. The final drafts that will be debated and adopted in Convention are attached to this email, and are posted now at www.republicofkanata.com , our main website.
There has been general unanimity about the wording of the Proclamation and the Oath. But one of the biggest points of contention has been with the original Constitution and its proposal to nationalize the land and restrict the size of land ownership. That point in the Constitution has now been modified. And after much debate, our proposals to establish a citizens' militia, lower the voting age to sixteen and abolish all income tax have been reaffirmed.
Please read over the new drafts of all these documents and discuss them at your next local branch meeting. Be sure to bring your views to the Convention or local gatherings on January 1-4, 2015.
……………………
Local Work: Campaigns, Issues and the Training of Local Leaders
by Kevin D. Annett
Special Adviser to the Provisional Council
Our organizational focus until now has been to train cadres of local leaders through workshops and practical actions in their own communities. These leaders are slowly emerging now that the principles of the Republic are being clarified in the course of us taking real action to nullify "Canada" and bring Kanata into being.
Clearly, there are two big issues of most concern to our members: the sheer corruption and violence in the present judicial and political system of "Canada", and the burden of financial debt and economic slavery afflicting more of us every day. Mortgage fraud, involving corrupt judges in the pay of banks and mortgage companies, is causing honest men and women to lose their homes and their farms. And the particular role of the "Canada Revenue Agency" (CRA) – Canada's tax department – in defrauding and robbing Canadians is foremost in this regard.
Our western Manitoba branches near Brandon are actively taking up both of these evils by exposing the criminal methods of the CRA as well as the political persecution of common law activist Dean Clifford, who has been incarcerated without due process in a Brandon jail for almost a year.
In addition, our Calgary branch and members in Kitchener, Ontario are confronting the criminality in "crown" family courts and their active trafficking of children.
To systematically conduct these campaigns and draw more Canadians into our movement, active and functioning local branches of our movement must be established. Most of our members are still not part of such working branches.
You will soon be contacted by your Regional Convenor, who will help you establish this system of operating:
1. Local Republic branches of three or more people will be established and will meet every week, preferably on a weekend, to discuss perspectives and plan local actions.
2. Every branch member is required to do the following: a) Take an Oath of Allegiance to the Republic of Kanata, b) pay monthly membership dues, and c) work actively under the direction of at least one local committee.
3. The local branch will consist of an executive of three people: a Branch Convenor, an Education-Membership coordinator, and a Direct Action coordinator.
4. The Branch Convenor is the personal liaison with the Regional Convenor, and retains copies of all of the records, documents and resources of the branch.
5. The Education and Membership coordinator recruits new members, trains and integrates them into the movement, collects membership dues and conducts regular internal and public education programs;
6. The Direct Action coordinator initiates all the public actions of the branch, by providing enforcement, security and intelligence, and organizing protests, occupations, land reclamations and media events. The DA coordinator also establishes and maintains Common Law Courts under the jurisdiction of the new Republic.
7. Public actions involving all local members, such as protests, leafletting and recruitment rallies, should occur at least once a week, preferably on a weekend.
Our movement is presently organized into six districts with members or functioning branches in the following areas:
District One: West Coast
1. Nanaimo-Vancouver Island
2. Vancouver- Lower Mainland
3. Abbotsford-Hope
4. Kamloops-Central Interior
District Two: Prairies
1. Calgary-southern Alberta
2. Edmonton-northern Alberta
3. Brandon-western Manitoba
4. Winnipeg
District Three: Ontario
1. Thunder Bay
2. Sault St. Marie-Sudbury
3. North Bay
4. Toronto
5. Kitchener
6. Hamilton
7. London
8. Picton-Kingston
9. Ottawa
10. Cornwall
District Four: Quebec
1. Montreal
2. Quebec city and eastern townships
District Five: Maritimes
1. Halifax
2. New Brunswick
3. PEI
4. Newfoundland
District Six: The North (Yukon and Nunavut)
1. Yellowknife
Finally, a special Indigenous Advisory Council consisting of elders from the Mohawk-Six Nations, Miq Maq, Algonquin, Anishinabe, Cree, Metis, Nuu-chah-nulth and Squamish Nations is now working with the Provisional Council to draft our Constitution and lay the basis for a truly federated Republic of equal nations. These elders are recruiting indigenous members for the Republic, especially in Districts One and Three.
We look forward to a Convention that will issue a shot heard around the world!
…………………………….
Editor's Note: Another Bulletin will be issued in December, prior to the January 1-4 Convention.
Please see the attached documents, also posted at www.republicofkanata.com
For information, contact the Provisional Council or your Regional Convener c/o republicofkanata@gmail.com .
Issued 1 November, 2014
on liberated territory within the Federated Republic of Kanata