Originally Posted on April 6, 2018 by Kevin
by Kevin D. Annett / Eagle Strong Voice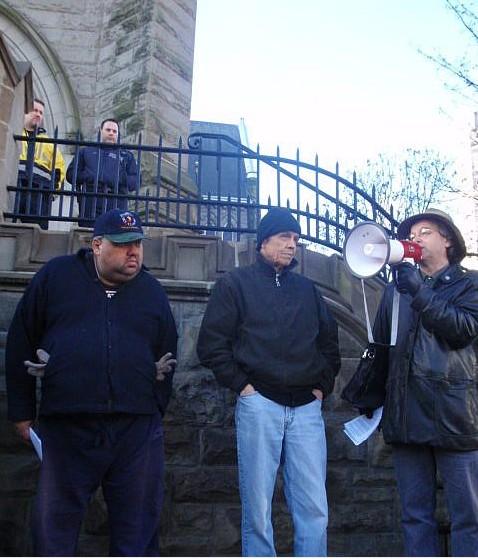 Former legal agent of hereditary Siem Kiapilano of the Squamish Nation
Church Eviction, March 16, 2008: Elder Kiapilano (centre) with Kevin Annett (right) and Ricky Lavallee (left), who was later murdered by Vancouver police
On March 4, 2008, a traditional indigenous elder walked into the British Columbia Supreme Court in downtown Vancouver and filed an Eviction Notice against the churches that destroyed his people. Twelve days later, the same survivor led an occupation of one of those churches to enforce that Notice and declare the churches to be illegally trespassing on his land. That same month, the Canadian government reacted, and the cover up of Canada's home grown Genocide began in earnest.
Here is that story, nearly erased from memory by the guilty:

He was a frail man who looked older than his seventy years. We first met in the studio of Vancouver Co-op Radio in the waning months of 2007, when I was still a broadcaster there. The man's name was Gerry Kiapilano. He told me he was the hereditary Siem, or elder, of the Squamish Nation, on whose stolen land Vancouver squats.

"The Mounties and the priests threw my grandfather out into the snow one night" Gerry described on the air that first day. "After that, our family was banned from the Squamish reservation. The government puppet chiefs were moved in to replace us. They're still running the show on the reserve."

Like every residential school survivor I've come to know, Gerry circled around the facts of his own torture like someone on the edge of a viper pit. He did relate that other children had been killed right in front of him by Catholic priests, but he stayed mute about what had been done to him. His eyes, of course, said much more.

Gerry Kiapilano was a man on his purpose. Over tea, soon after our interview, he said bluntly to me,

"Those churches never asked our permission to come here or to kidnap us from our families. They're trespassing on our land. I heard what you've been doing and I'm with you. We've got to make those murderers pay."
Gerry was not a vengeful soul, but he meant what he said. The Roman Catholic, Anglican and United Church of Canada had to pay, literally. They owed his nation back rent of nearly a century, as well as a moral restitution for their mass murder of children that was incalculable. And until such simple justice could be done, they had no right to stay on his land. He was about to issue all three of the churches a legal eviction notice, and he wanted my help.

"I know about your name Eagle Strong Voice and how the Anishinabe people adopted you. So I'm going to appoint you my fiduciary agent" he declared gently. "I'm empowering you to enforce the Eviction and bring those churches to justice."

I accepted the appointment with something more than glee and less than trepidation. For in those halcyon days before the government's big spin and payoff operation had begun, residential school survivors were ready to protest at the drop of a hat. Gerry Kiapilano and I quickly did the rounds of Vancouver's downtown eastside and its thousands of genocide survivors, recruiting as we went. By the new year we had assembled a small guerilla army, and were ready to act. But first we went to court.

The young woman behind the counter in the Law Court's Registry section gave Gerry an odd stare as he approached with his documents. She seemed even more perplexed when she read them. I suppose it isn't every day that an Indian files an Eviction Notice against the system. But as my old radical buddy Joe Hendsbee used to observe, the sheer maze of any state bureaucracy allows you to drive a Mack truck through its loopholes, and the British Columbia Supreme Court was no exception that day. The blithe functionary stamped Gerry's papers and filed them in the Court Registry as Case Docket Number S036483. It was March 4, 2008, and Gerry Kiapilano had his legal Eviction Notice against the churches. He promptly faxed them all copies.

"I've given them ten days to answer this" he muttered as we left the Law Courts, his eyes aglow. "After that, they're illegal trespassers and we can lay claim to their property. That's the law."
The God Talkers never replied, of course. The ten days came and went, and Gerry – who all of us came to call "Kap" for short – gave me, as his legal agent, the green light to enforce the Eviction Notice. Well, say no more!

That next Sunday dawned bright and clear. On cue, our people gathered at appointed rallying points and converged on Holy Rosary Catholic Cathedral from three directions, so as not to attract too much cop-attention. But we need not have worried. Thanks to that hidden hand that so often has guided and guarded our efforts, our target stood wide open and defenseless as we approached. The phalanx of police and Knights of Columbus goons who usually barred the Cathedral's entrance were absent that morning. The doors stood open.

"That's a sign, alright" I said to Kap, who strode alongside me as we led our fifty people towards the Cathedral. "Let's go!"

What followed is the stuff of high drama: the perplexed and helpless clergy backing away from our tide of humanity, flowing into the sanctuary as the organ moaned some absurd refrain; the mostly-curious parishioners, gazing at our banner that called for their victims to receive a proper burial; and our wondrous crowd of former victims who stood unafraid and united in the face of what had ravaged them, handing the pew sitters a notice that they were illegal trespassers on other peoples' land, and had to leave. We were counting coup against a huge and seemingly unbeatable opponent, and everyone there knew it.

The fallout came quickly. That same afternoon I received a frantic phone call from the Cathedral's Diocesan lawyer, who begged me to call off any more church occupations. Easter was approaching, after all.

"Well, what better time to resurrect justice in this land?" I answered the paper pusher, who didn't seem amused.
But the response went further. That same week, the federal government hurriedly announced the launching of that absurd misnomer, the "Truth and Reconciliation Commission": a huge public relations stunt that was about neither. The Big Spin had begun, but only because Kap and our people had belted Goliath one right between the eyes.

"I'm counting on you to keep this up" Kap exhorted me after the news broke. "They're going to try to bury all this but we can't let them. You have my authority to occupy these churches and shut them down for good, and bring their leaders to trial."

Over the subsequent years I did precisely that, even as far away as Rome and London and Brussels. And even though the results aren't completely obvious yet, our bullet has plowed into the heart of the Beast of Church and State even as it continues to stampede towards oblivion. Time and the Truth will do the rest.

It is the fate of man to forget, wrote Emerson. The dying powers that pretend to be have for now wiped memories clean and buried the fact of their Group Crime and the few of us who exposed and confronted it with our last measure of devotion. Most of the leaders of our action that day were dead within a couple of years from obvious foul play, and Kap himself retired into an unexplained reclusion. But the walls are coming down, nevertheless, because an example was made. We showed the world that the killers who hide behind clerical robes have no place among us anymore and must leave our land. We demonstrated that power lies not with the rich criminals but with We the People, if only we will allow the justice in our own hearts to blossom into right action.

Go and do likewise.

Download this Cease and Desist Order to your local Catholic church starting April 15, 2018: Cease and Desist order to church
Learn more this Sunday and every Sunday at 3 pm pacific, 6 pm eastern on Here We Stand, at www.bbsradio.com/herewestand .