Originally Posted on October 15, 2016 by Kevin
A Special Report by the Free University, a Publication of UBC Alternative Media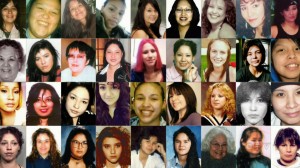 Hey people! Wrench your gaze away from your ipads for a moment and listen up! This concerns you, and how paying your tuition makes you an accomplice in crime.

Just south of the UBC campus lies the Musqueam Indian reservation and a man named Les Guerin. Les has lived there all his life and until recently worked on the grounds crew. But now he's in hiding because his life has been threatened.
"It started the night I saw a guy unloading bags near the reserve garbage dump and burying them there. Later I recognized him as Dave Pickton, brother of serial killer Willie Pickton. I dug around there later and found a bunch of bones Pickton had buried. I took them to SFU forensics and it turns out they were the bones of several young women mixed up with pig remains. Dave Pickton was actually employed by the Musqueam band for over two years. "
Les took his discovery to the police and the press. He was told to keep quiet about it and even threatened by police officials. Later, when he talked about what he'd found he was fired by the Musqueam band and forced to move away. According to Les,
"For years I was friends with Wendy Sparrow and Ed John and the other Musqueam chiefs, and I learned a lot about their dirty laundry, like the child trafficking and the guns and drugs they bring in through Celtic Shipyards. I know there's body dumping sites in at least three spots on the UBC campus, not just at Musqueam. UBC is provincial land so it's under RCMP jurisdiction. The Mounties have made many of our aboriginal women go missing. So what better place for them to hide their remains?"
In a special report issued in February 2013, Human Rights Watch (HRW) of New York City claims that the RCMP is directly implicated in the disappearance of aboriginal women across B.C. In their report, HRW documents how Mounties routinely rape, torture and imprison west coast native women, and often these women then vanish. An HRW spokesman claims that "many hundreds of First Nations women in British Columbia are going missing at the hands of police under a fog of official deception."
The UBC campus is flush with money from the very corporations that have forced Indians off their land and made them go missing to grab their lands and resources. Companies like Weyerhauser, Timber West and B.C. Hydro are but a few. Natives claim that these companies and Chinese corporations fund private hit squads to terrorize local Indians.
The UBC Board of Governors (BoG) is a Who's Who of this criminal corporate elite, including BoG Chairman Stuart Belkin, who is Timber West's founding Director, UBC Chancellor Lindsay Gordon, former CEO of the drug cartel money-laundering syndicate known as HSBC Bank, and Michael Korenberg, who runs the Jim Pattison Media conglomerate that has fogged the truth of B.C.'s homegrown genocide.
That genocide has been around since the first Catholic and Anglican missionaries spread vaccine-induced smallpox among the interior and coastal Indians during the 1860′s. Fourteen separate mass graves of Indian residential school children dot the province, containing the remains of thousands of innocents murdered by the Anglican, United and Catholic Churches, all of whom have heavy endowments on our campus.
UBC has reaped the bloody fruit of the conquest that has wiped out nearly one million original people on our land, and that continues to devour them.Do you still feel like paying your tuition? Under international law, you're committing a crime and an indictable offense when you fund proven criminal organizations. Decide for yourself. Check out the evidence at www.murderbydecree.com andwww.itccs.org .You can keep abreast of the campaign to prosecute and stop these crimes by tuning in to Radio Free Kanata, every Sunday at 3 pm pacific at www.bbsradio.com/radiofreekanata .