Originally Posted on December 10, 2015 by admin
by Kevin D. Annett
We always knew a fix was coming down when the local Chief of Police started public grandstanding and making noise to the press about holding "criminal inquiries". That was his way to warn his mob buddies to make their getaway and hide their shit before they were really exposed. Governments are no different. – Retired RCMP officer George Brown, Vancouver, 2006
It not just our women who are going missing. Whole families are disappearing. Our northern indigenous communities are being terrorized and wiped out for their land by big corporations and their hired RCMP thugs. It's the residential schools genocide taken to its next step. – Carol Martin, Vancouver, 2009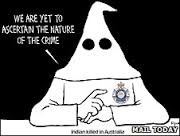 …………….
It was fitting that when I read tonight of the new Liberal government's grandstanding announcement of yet another "inquiry" into missing aboriginal women I was standing across from the Georgia hotel in downtown Vancouver. Native prostitutes go into the Georgia all the time and are never seen again, since it's also a private club for the Vancouver police and senior judges. But most people don't savvy the connection, any more than they understand government "inquiries" for what they really are.
Hot on the heels of the immense camouflage called the Truth and Reconciliation Commission (TRC), the diminutive Prime Minister Trudeau the Lesser has launched his own smoke and mirrors effort, equipped with all the right phrases. This one is aimed, not surprisingly, at that other genocide that's giving Canada such a bad name and damaging its global credit and tourism rating: namely, the restrictively labeled "missing aboriginal women" matter. And as a neophyte who still looks like he doesn't need to shave, wee Justin Trudeau has got to make this latest farce look convincing.
Of course, behind the political imperative of a new facelift for the nation is the reality that, like all "official investigations" emanating from Ottawa, this "Missing Women's Inquiry" will have no teeth and no balls, nor the legal power to do anything besides make flaccid "recommendations". Did somebody say TRC, Part Two?
For one thing, the very groups that have for years blocked and disrupted genuine efforts to find those responsible for the disappearances are the same ones in charge of this "inquiry". Foremost in this regard is the misnamed "Native Women's Association of Canada" (NWAC), a wholly funded, owned and operated subsidiary of the government, set up like the Assembly of First Nations (AFN) to divert and hijack genuine indigenous movements for change. NWAC will be leading the Inquiry, so don't hold your breath.
For another, the "Inquiry" has already announced its plans to "work closely with the existing police investigations" into missing women. The what? There are no such investigations; or more accurately, whenever one begins, it gets shut down very quickly by those same police bodies. But don't believe me. Ask a cop himself, like George Brown.
George is a west coast aboriginal man and a retired RCMP officer with over twenty years on the Force. In the spring of 2006, he and a few others tried setting up their own "Community Inquiry into Missing People" based in Vancouver's downtown east side neighborhood where so many native people were and are disappearing. Their efforts lasted not even six months before the Vancouver police literally put a gun to George's head and told him to back off.
As George remembers,
"From the eyewitnesses and even a couple of insiders, we were getting very close to finding out which senior cops and politicians were involved in the human trafficking and even some of the killings. That's when the boot came down. I had to stop what I was doing if I wanted to live, it was that simple." (1)
Annie Parker was one of the eyewitnesses. Kidnapped and tortured by Vancouver cop Bruce Michaelson into working for the police-run prostitution and snuff film operation called "the Hooker Game", Annie was taken to parties where young, mostly aboriginal girls were drugged, raped and killed on camera. The girls were then disposed of by Michaelson and one of the Vancouver serial killers, a Canadian military officer named Jean-Guy Boudrais. At these parties Annie saw Vancouver mayor and now Senator Larry Campbell, former Prime Minister Paul Martin and a host of lesser politicos. (2)
That said, anyone who works with west coast aboriginal people for very long learns quickly the real reasons why so many of them are going missing. It's not so much because of lone demented psychopaths – although such monsters are certainly useful to the real culprits – as due to the corporate hunger for the bountiful native-held lands and resources of central and northern British Columbia. And these corporations get a lot of help not only from the feds themselves but aboriginal politicians closely tied to the government and NWAC, like "chief" Ed John, himself an accused woman-killer.
Ed John made his early fortune and political capital by evicting fellow Carrier-Sekani tribal members off their land for companies like Alcan and Interfor, and trafficking native children into the homes of wealthy pedocides. He also helped shut down the only independent tribunal into Indian residential schools in the summer of 1998 by terrorizing its witnesses through his hired goons. Ed's efforts so impressed Ottawa that they eventually made him Canada's "aboriginal representative" (I kid you not) at the United Nations. (3)
Ed's also done his own share of raping and killing people, according to eyewitnesses like Les Geurin of the Musqueam Indian reserve in south Vancouver, where Ed lives along with his wife, national AFN chief and government hack Wendy Grant. The Musqueam reserve, according to Les who has uncovered some of the bones, is also a regular dumping ground for the remains of the very missing aboriginal women who will be "investigated" by Ed John's buddies on the NWAC and its upcoming "inquiry".
Of course, that kind of collusion between the suspects and the investigators is as Canadian as inside stock trading, or as the infamous quote from Indian Agent Gerald Barry who, upon concluding his "investigation" of the death of children in the United Church's Ahousaht residential school in early 1940, wrote to his bosses in Ottawa,
"As this was the property of the church, care was taken to avoid too close an inquiry." (4)
Everything points to a stupendous cover-up of thousands of missing native people that is already in the works, since the lawyers will once again be running the "Missing Women's Inquiry". The ones whom William Shakespeare urged us to kill have had long experience in hiding bodies on Canada's west coast.
In 2004, after the lawyers for the families of some of Vancouver's missing women were given forensic evidence that women's remains had been uncovered from a garbage pit on Ed John's Musqueam reserve, the lawyers steadfastly ignored it – naturally, since the new evidence upset the Big Fix agreed upon by lawyers on both sides, that a single "lone gunman", Willy Pickton, had killed dozens of Vancouver women. Indeed, multiple body dumping sites would suggest a bigger criminal conspiracy than sorry Mr. Pickton, whom the police had already chosen as their only suspect. Cameron Ward, the main lawyer for the families, didn't even return the calls or emails of Les Geurin, the Musqueam maintenance man who'd discovered the bones and had them analyzed and positively identified as being human. (5)
Ottawa has clearly learned its lesson from the Pickton trial, which revealed that Vancouver police knew for years of the killing center known as Piggy's Palace in Coquitlam, and not only did nothing but were caught attending the all night raping and snuffing parties going on there. So to conceal the police and high level political involvement with the Picktons – who were in truth simply the body disposal crew for wealthier men who were doing the actual killings – the government is buying itself insurance for the latest "inquiry" by making a big show of "involving" families of the victims in the process. Such a move will head off any potentially independent critics and muckrakers who last time uncovered the police-Pickton connection. But such "involvement" will come at the price of silence and complicity in what will inevitably be another big getaway for the real killers. (6)
At the end of the day, no Canadian government will ever get to the bottom of and stop the trafficking and killing of aboriginal people, any more than child rape will ever be officially halted, and for the same reason: whenever the police dig very deep they find they're investigating their own bosses and their friends. As Nishga activist Carol Martin reminds us about the Disappeared of Canada, "It's just the residential schools genocide taken to its next step".
What is necessary is for the community to take action on its own, over and against the established authorities, as George Brown and others have done. Indeed, launching such independent, citizen-based inquiries with the power to arrest and prosecute the ones killing our neighbours is the only recourse left for Canadians who want to do more than simply remember the Disappeared. To do that, we'll first need to establish our own common law courts and step outside the sordid "crown" jurisdiction entirely, nourished by the will and freedom to make such a change happen. But considering our sorry track record to date, that kind of daring by Canadians is as likely as Justin Trudeau naming the names of all the child trading politicians.
Nevertheless, do stay tuned. It can only get ever more amusing, to those with eyes to see and hearts to revolt.
……….
Notes
(1) From an interview with the author on May 14, 2006 in Maple Ridge, B.C. George Brown is also featured as a witness in Unrepentant, the award-winning documentary film on Indian residential schools found at www.hiddennolonger.com .
(2) See Annie Parker's complete testimony at www.itccs.org , Important Posts: "Memo on the Organized Disappearance, Torture, Exploitation and Murder of Womena and Children on Canada's West Coast", May 26, 2006: ( http://itccs.org/2011/02/02/memorandum-on-the-organized-disappearance-torture-exploitation-and-murder-of-women-and-children-on-canada-s-west-coast-a-summary-from-eyewitnesses/ )
(3) From the testimony of numerous witnesses in closed sessions, and of Frank Martin and Helen Michel, Carrier-Sekani tribal members who testified about the killing of their relatives by Ed John's agents in Prince George, at the IHRAAM Tribunal in Vancouver on June 13, 1998. The author was physically assaulted at the same Tribunal on June 14 by a rather large man named Dean Wilson who claimed to represent Mr. John, and who while clutching the author by the throat exclaimed, "Eddie John doesn't like what you're doing here! He's the one who speaks for Indians, get it?"
(4) From the Indian Affairs RG 10 collection (Indian residential schools), R 7733 file, West Coast Agency reports, January 17, 1940, as quoted in "Hidden No Longer: Genocide in Canada, Past and Present" BY Kevin D. Annett, www.hiddennolonger.com .
(5) From a series of videotaped interviews by the author during 2004 with Les Guerin and Jim Kew, both of whom were residents on the Musqueam Indian reservation during this period. Documents related to these incidents are also on line at www.hiddennolonger.com .
(6) The involvement of elements of the RCMP and Vancouver city police with the Hell's Angels and the Pickton brothers has been testified by eyewitnesses including two aboriginal women who were taken to Piggy's Palace by police during 1999 and 2000. Both women were interviewed by the author on his Vancouver Co-op Radio program Hidden from History in the summer of 2010, shortly before that program was suddenly cancelled without explanation by the government-funded station managers. In addition, a former Canadian Security Intelligence Service (CSIS) operative named Grant Wakefield who was an undercover informant at Piggy's palace met with the author during 2011 and gave his own eyewitness account of seeing the politicians mentioned and senior RCMP officials participating in the rape and killing of aboriginal women there. See the author's upcoming bookUnrelenting for more details. (www.itccs.org , www.KevinAnnett.com)