Please help: Attached is an important poster to print off and circulate for our April 15-16 actions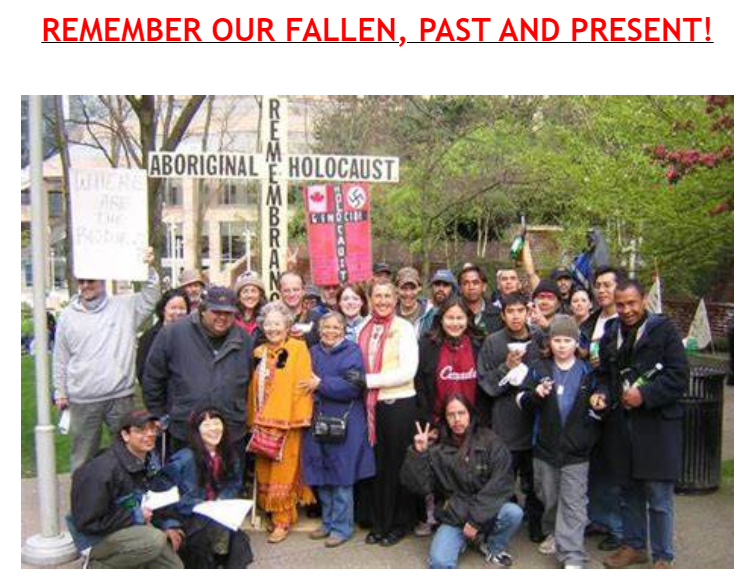 Kevin Annett and friends at the first Aboriginal Holocaust Remembrance Day
April 15, 2005, in Vancouver, B.C.
MURDERED!
Circled in red, left to right (in the pdf)
RICKY LAVALLEE
Eyewitness to the killing of Johnny 'Bingo' Dawson by Vancouver Police on December 9, 2009. Ricky was found beaten to death on February 2, 2010.
JOHNNY 'BINGO' DAWSON
Eyewitness to child killings at the Anglican Alert Bay 'Indian residential school'. Beaten to death by Vancouver Police on December 9, 2009.
WILLIAM ARNOLD COMBES
Eyewitness to killings, and to the abduction of ten children by Queen Elizabeth, at the Kamloops Catholic 'Indian residential school' on October 10, 1964. Killed by arsenic poisoning at St. Paul's Catholic Hospital, Vancouver on February 26, 2011.
ALL THREE OF THESE MURDERED BROTHERS HELPED US OCCUPY AND CONFRONT THE GENOCIDAL CATHOLIC, ANGLICAN, AND UNITED CHURCHES.
· RCMP officer Bruce Michaelson was heard saying to Bingo Dawson two days before his death: "Assholes like you go missing."
· United Church minister Gary Paterson yelled at Bingo Dawson as he led a brief occupation of St. Andrew's Wesley United Church a month before his death: "We know who you are, and we won't let this happen again!"
· St. Paul's Hospital nurse Chloe Kirker states: "I was with William Combes just before he died, and he had no sign of tubercular meningitis which they claim he died of. Instead, he had all the symptoms of arsenic poisoning."
· Ricky Lavallee died of blows to his head and chest according to the Vancouver Chief Coroner Claire Thompson. But she refused to release a death certificate for Ricky, and when pressed threatened litigation.
JOIN US ON THE WEEKEND OF APRIL 15-16 TO CONFRONT THEIR KILLERS AND HELP WIN THE CAUSE THEY GAVE THEIR LIVES FOR!
DEFUND AND DISESTABLISH GENOCIDAL CHURCHES!
STOP THE ONGOING CRIMES AGAINST ALL OUR PEOPLE!
CONTACT republicnationalcouncil@protonmail.com to take action where you are. LISTEN to www.bbsradio.com/herewestand Sundays at 3 pm pacific, 6 pm eastern.
LEARN at www.murderbydecree.com and www.republicofkanata.org