A Public Announcement from the Republic of Kanata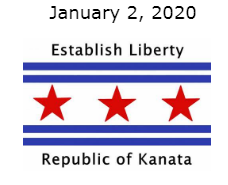 The Voice of the Republic of Kanata returns live on the air this Sunday, January 5 – 
New training schools for Common Law activists and Republic citizens to commence January 15 – 
Kevin Annett to convene a global press conference on January 23, 2020
Winnipeg:
In a special broadcast today, Kevin Annett and the Provisional Council for the Republic of Kanata issued an announcement regarding three important events over the coming month.
1. Here We Stand, the public voice of the Republic of Kanata, will resume its live blog radio broadcasts this Sunday, January 5 at 3 pm pacific, 6 pm eastern time. This hour long interactive program features the front line fighters who are stopping crimes against humanity and creating a new society from the grassroots. Tune in at that hour this and every Sunday at www.bbsradio.com/herewestand (all previous shows are archived at this site).
2. On January 15, 2020 – the fifth anniversary of the establishment of the Republic of Kanata – three new Citizenship Training Schools will be convened by the Republic in Vancouver, Winnipeg and Toronto. The two-week long school will educate, train and accredit new citizens and Republic officers with the tools they need to reclaim the nation and build the Republic of Kanata in their communities. To enroll in the school or to take out citizenship in the Republic, write to republicofkanata@gmail.com or thecommonland@gmail.com .
3. On January 23, 2020 – the twenty fifth anniversary of the firing without cause of Kevin Annett by the criminally convicted United Church of Canada – Kevin will convene a global press conference at a location and time to be announced. At that event, Kevin will be announcing a new series of actions to resurface the history of ongoing genocidal crimes by Church, State and Corporations in Canada and to prosecute those individuals and groups responsible. Stand by for more details at www.murderbydecree.com under ITCCS Updates.
Stand by for more breaking updates. You are the Republic!
Issued by the Provisional Council for the Republic of KanataJanuary 2, 2020