Breaking News, May 9: Global Alliance forms to oust Corporatocracy, restore liberty: A Special Global Communique from The Republic Alliance: An International Federation of Free, Sovereign Nations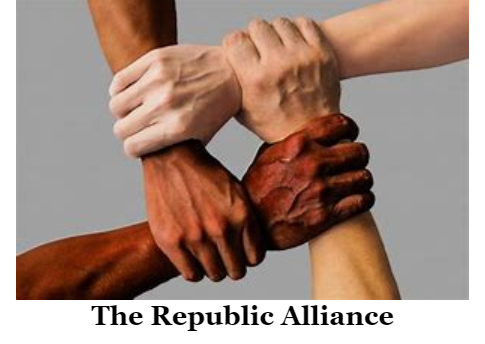 Unite now to overthrow the Covid Corporatocracy!
A Special Global Communique from The Republic Alliance: An International Federation of Free, Sovereign Nations Issued on Monday, May 9, 2022
Republic Alliance forms to fight global tyranny: July conference will unite patriots internationally
For the past two years, a worldwide corporate tyranny has descended on humanity under the guise of a staged public health crisis. Everywhere, the rule of law and democracy lie in ruins. A new global fascism has deposed accountable governments and is enslaving the free people of the Earth. The time has come to end that tyranny and establish self-governing societies according to the free will of the people!
Millions of people have been waging individual, heroic battles in their own countries to defend their liberties and resist and overturn the covid tyranny. In eleven of those countries, and in eight allied indigenous nations, patriots have now separated themselves into new, sovereign Republics with their own legislative Assemblies, Courts, and Citizen Militias. They have passed and are enforcing their own laws that prohibit covid measures and arrest criminally convicted corporate, church, and government officials.
Those patriots are now going beyond defensive responses. They are joining hands across borders to establish an international federation of free, sovereign people to overthrow and replace the global Corporatocracy. That federation is the Republic Alliance.
From July 1-4, 2022, the Alliance is convening an international conference to issue an Emancipation Proclamation and Charter, and to plan joint actions to disestablish tyranny and reclaim their countries and their wealth for all the people. The Alliance member Republics will establish mutual trade and defense treaties to defend each other against the violence and criminality of the Corporatocracy and its puppet governments.
Alliance delegates will be attending or participating from Canada, America, England, Ireland, France, Italy, Germany, Sweden, Russia, China, New Zealand, Australia, and South Africa, and from the indigenous nations of the Chilcotin, Squamish, Anishinaabe, Mayan, Celtic, Basque, Tibetan, and Ainu people.
In the same way that survivors of genocide have united internationally to prosecute the Vatican, Big Pharma, and other child killing powers in an international common law court of justice, so too do the sovereign people of the earth now join hands to stop an even greater crime against all of humanity.
We will no longer tolerate the destructive rule of a few corporate technocrats and billionaire oligarchs! We are reclaiming the world for its people so that all can live in equality, liberty, and harmony with creation and one another! It is now only liberty or death!
We call upon all people to rally to the Republic Alliance and join or form sovereign Republics wherever they live, beginning with local sovereign Assemblies. As free men and women, we all have an inherent sovereignty and the unalienable right to govern ourselves.
To participate in the July conference, and to join or form a sovereign Republic in your country: contact republicnationalcouncil@protonmail.com and follow updates at www.republicofkanata.org and every Sunday at 6 pm eastern and 10 pm GMT at www.bbsradio.com/herewestand .
For the worldwide liberation of humanity! We will live free or die!
ssued by the Coordinating Committee of the Republic Alliance, May 9, 2022
Here is the latest show from May 8: Here We Stand, May 8, 2022 | BBS Radio https://www.bbsradio.com/podcast/here-we-stand-may-8-2022
L' Alliance de la République
Unissons-nous maintenant pour retourner
cette Corporatocracie covid!
Un communiqué mondial spécial de The Republic Alliance :
une fédération internationale de nations libres et souveraines
Emis ce Lundi, 9 Mai, 2022
Au cours des deux dernières années, une tyrannie mondiale des entreprises s'est abattue sur l'humanité sous le couvert d'une crise de santé publique mise en scène. Partout, l'État de droit et la démocratie sont en ruine. Un nouveau fascisme mondial a déposé des gouvernements responsables et réduit en esclavage les peuples libres de la Terre. Le moment est venu de mettre fin à cette tyrannie et d'établir des sociétés autonomes selon le libre arbitre du peuple !
Des millions de personnes ont mené des batailles individuelles et héroïques dans leur propre pays pour défendre leurs libertés et résister et renverser la tyrannie Covid. Dans onze de ces pays, et dans huit nations indigènes alliées, les patriotes se sont maintenant séparés en nouvelles républiques souveraines avec leurs propres assemblées législatives, tribunaux et milices citoyennes. Ils ont adopté et appliquent leurs propres lois qui interdisent les mesures covid et arrêtent les responsables d'entreprises, d'églises et de gouvernements condamnés au pénal.
Ces patriotes vont maintenant au-delà des réponses défensives. Ils se donnent la main au-delà des frontières pour établir une fédération internationale de peuples libres et souverains pour renverser et remplacer la corporatocratie mondiale. Cette fédération est l'Alliance de la République.
Du 1er au 4 juillet 2022, l'Alliance convoque une conférence internationale pour publier une proclamation et une charte d'émancipation, et pour planifier des actions conjointes pour renverser la tyrannie et récupérer leurs pays et leurs richesses pour tout le peuple. Les républiques membres de l'Alliance établiront des traités mutuels de commerce et de défense pour se défendre contre la violence et la criminalité de la corporatocratie et de ses gouvernements fantoches.
Des délégués de l'Alliance seront présents ou participeront du Canada, d'Amérique, d'Angleterre, d'Irlande, de France, d'Italie, d'Allemagne, de Suède, de Russie, de Chine, de Nouvelle-Zélande, d'Australie et d'Afrique du Sud, ainsi que des nations autochtones Chilcotin, Squamish, Anishinaabe, Peuple maya, celtique, basque, tibétain et aïnou.
De la même manière que les survivants du génocide se sont unis à l'échelle internationale pour poursuivre le Vatican, Big Pharma et d'autres puissances meurtrières d'enfants devant une cour de justice internationale de droit commun, de même le peuple souverain de la terre s'unit maintenant pour arrêter un encore plus grande crime contre toute l'humanité.
Nous ne tolérerons plus le règne destructeur de quelques technocrates d'entreprise et d'oligarques milliardaires ! Nous récupérons le monde pour ses habitants afin que tous puissent vivre dans l'égalité, la liberté et l'harmonie avec la création et les uns avec les autres ! Ce n'est plus que la liberté ou la mort !
Nous appelons tous les peuples à se rallier à l'Alliance de la République et à rejoindre ou à former des Républiques souveraines où qu'ils vivent, en commençant par des Assemblées souveraines locales. En tant qu'hommes et femmes libres, nous avons tous une souveraineté inhérente et le droit inaliénable de nous gouverner.
Pour participer à la conférence de juillet et pour rejoindre ou former une République souveraine dans votre pays : contactez republicnationalcouncil@protonmail.com et suivez les mises à jour sur www.republicofkanata.org et tous les dimanches à 18h00 heure de l'Est et 22h00 GMT sur www.bbsradio.com/herewestand.
Pour la libération mondiale de l'humanité !
Nous vivrons libres ou mourrons !
Publié par le Comité de coordination de l'Alliance de la République, le 9 mai 2022